Aurora Labs offers atypical activities for small groups, in Vadsø and its neighbourhood. By visiting our beautiful region of Varanger, you will discover not only an off the beaten track destination, far from mass tourism, but you will also have the chance to live and feel the true Arctic life. Arriving here with the local airline will be an incredibly original moment! And once here, we promise you there are plenty to do and see, which will turn your journey into an unforgettable experience.
Our road trips towards the East and West of the Varanger fjord and our guided tours of Vadsø and Vardø will allow you to discover beautiful places and to better understand our charming Finnmark region, while living life at the local rhythm.
With us, you can also experience the Northern Lights in a scientific way – even in summer! – by listening to them or by discovering their mysteries and learning to forecast them during a workshop (now online too)! We can now even certify you as a Northern Lights expert, as part of our Aurora EDU programme! You can also learn to forecast the weather with nature's signs, or identify clouds, right under the Midnight Sun.
Or why not let yourself be overwhelmed by the greatness of our Universe, while stargazing or when chasing the dancing Aurora during the Polar Night?
The latest articles
All articles
Browse by category
Tag cloud
Activity App Arctic Arctistic Art Astronomy Aurora Aurora Labs Birdwatching Comet Culture Drones Earth Hear the Aurora History Holiday ISS Lyrids Meteor shower Moon Nature Night sky Northern Lights Norway Perseids Planets Polar Day Polar Night Safety Satellites Science Shooting star sky Space Space weather Stargazing Starlink Sun Telescope Travel Universe Vadsø Weather
Meet Sergiu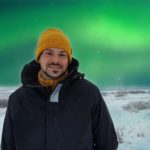 I accomplished my dearest dream, to be a Northern Lights hunter in the Arctic. In fact, my love for this region of the world is so intense, that I decided to create here Aurora Labs, to be able to carry out my activities. The beauty of the landscapes of Vadsø, the people, its tranquility, they have all marked me for life, and I realized that I never wanted to leave this place. Here is my "home". And what I want more than anything, is to induce you, at least part of this love, thanks to my activities that are unique in the world. Check out my website and see what we can do together if you decide to visit me here in Finnmark in Northern Norway (among others, you can experience the Northern Lights, even in summer!)