Sergiu from Aurora Labs is, above all, a Northern Lights hunter who offers atypical activities in Vadsø and the Varanger region, a destination off the beaten track and far away from mass tourism.
Sergiu, arctic guide, is here to facilitate the organization of your private holiday, by putting you in contact with many actors involved in the local tourism.
Why discover the Arctic in well-known places, where the mass tourism is already present, when – for the same price – you can see and experience something unique and authentic?
The latest articles
All articles
Browse by category
Tag cloud
Activity App Arctic Arctistic Art Astronomy Aurora Aurora Labs Birdwatching Comet Culture Drones Earth Hear the Aurora History Holiday ISS Lyrids Meteor shower Moon Nature Night sky Northern Lights Norway Perseids Planets Polar Day Polar Night Safety Satellites Science Shooting star sky Space Space weather Stargazing Starlink Sun Telescope Travel Universe Vadsø Weather
Meet Sergiu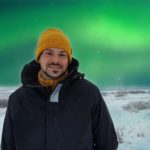 I accomplished my dearest dream, to be a Northern Lights hunter in the Arctic. In fact, my love for this region of the world is so intense, that I decided to create here Aurora Labs, to be able to carry out my activities. The beauty of the landscapes of Vadsø, the people, its tranquility, they have all marked me for life, and I realized that I never wanted to leave this place. Here is my "home". And what I want more than anything, is to induce you, at least part of this love, thanks to my activities that are unique in the world. Check out my website and see what we can do together if you decide to visit me here in Finnmark in Northern Norway (among others, you can experience the Northern Lights, even in summer!)