Do you think that visiting me here in Vadsø is complicated? I know that people might believe that a trip to the Arctic can prove difficult – and I say this because I, personally, believed that. But, compared to other Arctic destinations, Vadsø and the whole of Varanger are different: they are remote, yet accessible, and this in all seasons. Being the CEO of Aurora Labs here in Vadsø, I now travel here rather often, from France or from other touristic and accessible South-European countries. And with this story, I would like to show you just how easy it is to get here!
Are you dreaming of a place, where the sounds that you hear are just the Northern winds and the joyful chirping of birds? A place where life goes on in a calm rhythm, in the middle of a breathtaking landscape? And where the night sky has magical colors – green in winter and golden in summer? Then stop dreaming! This place actually exists and it's more accessible than you would think!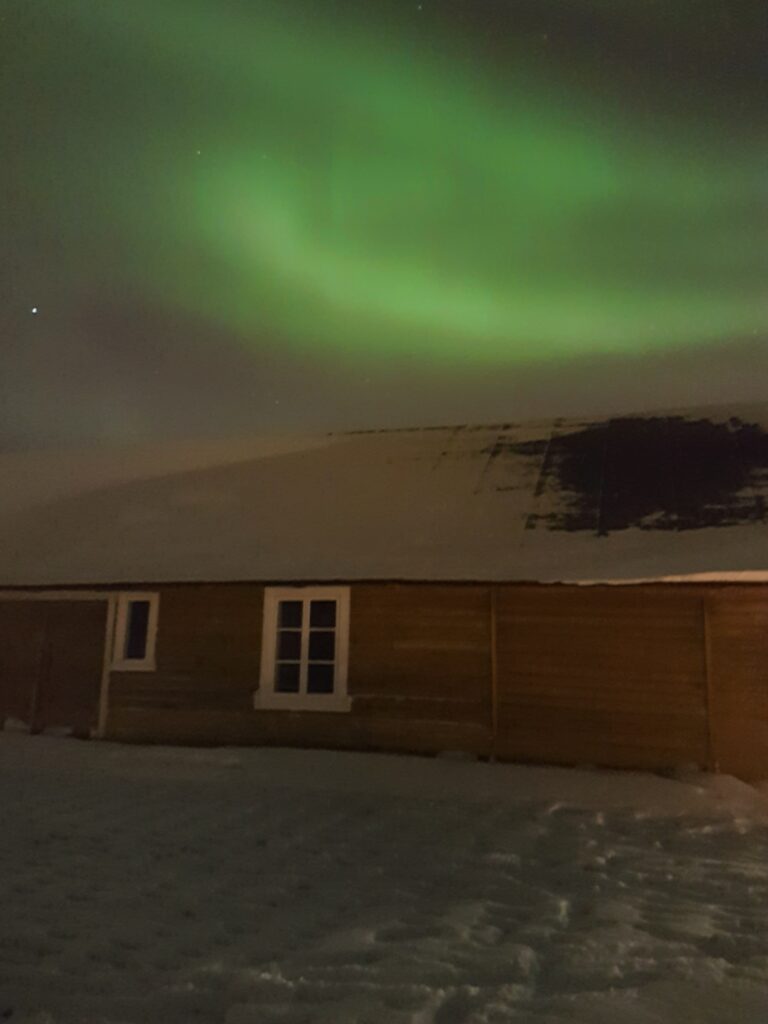 As I have already detailed how to arrive to Vadsø and Varanger on the Aurora Labs website, now it's time to test this myself! So join me on my trip to Vadsø by plane, by bus and by ferry!
1 night in Oslo …or not
Note that my own outbound itinerary included one overnight stay in Oslo. I personally find that you feel a lot less tired if you choose to take a 1 night break in Oslo.
But you do have the option to arrive to Vadsø during only one day, without spending 1 night in Oslo, so book whatever itinerary makes you comfortable.
Outbound Journey to Vadsø
To get to Vadsø, you have multiple options:
take a plane that lands directly at Vadsø Airport (and then take a taxi to reach any address in Vadsø easily, or rent a car and pick it up at the Vadsø Airport)
take a plane that lands in Kirkenes, and from there either rent a car, take a regional plane, or take the bus to get to Vadsø. For this particular trip, I chose this last option, to make the trip more fun!
Day 1: Landing in Oslo
I landed at the Oslo Gardermoen Airport, on a Sunday, towards 17:00. My bagage was delayed however: I only had my backpack with me, with my computer, my phone charger, my documents. The weather forecast announced that in Oslo would be around 26°C that day, so I was only wearing my shorts and a T-shirt, which seemed fine for Oslo. But the next day I would be travelling to the Arctic – so shorts and T-shirt is NOT the way to go, not even in summer! It even contradicts what I have written myself, on my own website, concerning safety in Vadsø and Varanger!
So, do as I say (…and not as I do!) and make sure that you put in your hand luggage/backpack at least a pair of underwear, a long sleeve top or jacket and long pants, and this especially if you're travelling to the Arctic the following day!
The luggage was to be handed to me during the following days, so, at the lost baggage counter, I needed to leave the address of where I would be staying in Vadsø. It was already passed 18:00 on a Sunday, so all shops were closed and there was nowhere I could go to do some Arctic clothes-shopping!
Day 2 – Segment 1: Oslo-Kirkenes
Luckily, early in the morning, before my flight to Kirkenes, there was a single clothes shop open in the whole of the Oslo Gardermoen Airport, where I could buy myself some suitable clothes and underwear! So i could leave to the Arctic peacefully!
The plane departed Oslo and arrived in Kirkenes on time. The airport in Kirkenes is very small, so there will be no trouble with waiting for the baggage to arrive on the belt, or with other formalities.
Once here, you will find yourself in the baggage reclaim room and you have three possibilities to go further to Vadsø:
by renting a car, either in advance, or directly at the counters in the airport
by taking a regional Widerøe plane, or
take the Snelandia bus (there are several throughout the day, so check the timetables to see if you have a bus after your own plane lands).
Day 2, Segment 2: Kirkenes-Vadsø
To make the trip more fun, I decided to take the bus. The timetable matched perfectly: the next bus was scheduled less than 1 hour after the plane landed. The bus station is just in front of the "Arrivals" gate at the Kirkenes Airport. I bought the ticket directly on their app (Snelandia Mobillett). All went smoothly, the Nr. 64 bus arrived and departed on time.
On the bus, the seats were very comfortable, there was even a plug for charging my phone. So I just relaxed and looked out the window: the boreal forest landscapes were amazingly beautiful. Now and then there were views over the Varanger Fjord, which were breathtaking! There were even reindeer on the road here and there!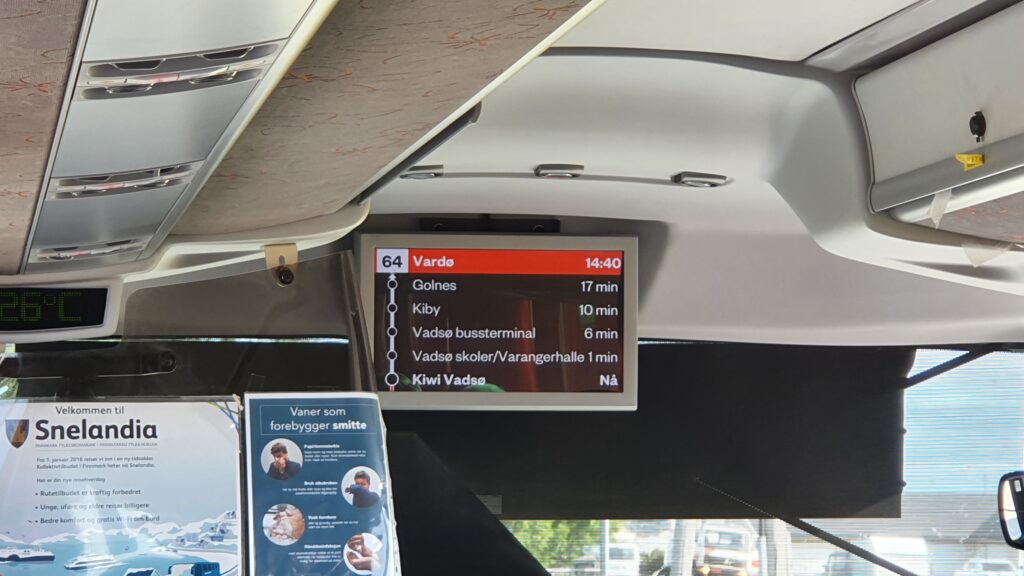 The bus got to Vadsø on time. Make sure you get off at the "Vadsø Bussterminal" station, because taxis are just round the corner (around the Trivselslaben/Gründertorget building). And from there, you can get to any address or hotel in Vadsø easily.
Inbound Journey – Going Home from Vadsø
For going back home, you have the same possibility to book a 1-day or 2-days itinerary. There are planes departing Vadsø and/or Kirkenes throughout the day, so you can reach Oslo any moment of the day. Meaning that you can have, again, the option to spend 1 night in Oslo – or not.
For this trip, I chose to go directly home, without spending 1 night in Oslo.
To leave Vadsø – there are multiple possibilities:
you take the plane at the Vadsø Airport (there are planes leaving Vadsø throughout the day)
you drive your rented car to Kirkenes, to return it and you take the plane back, from there
take the Snelandia bus to get to Kirkenes Airport
take the Hurtigruten ferry to get to Kirkenes Seaport and from there, a short bus ride to get to Kirkenes Airport.
To keep the fun spirit of the trip – I chose the last option: by the Hurtigruten ferry!
So, early in the morning I ordered a taxi on the Vadsø taxi website. The taxi came on time and we reached the Vadsø Seaport about 30 minutes before the Hurtigruten ferry was planned to leave to Kirkenes.
How happy I was that I chose to go to Kirkenes by ferry! I was able to live a unique experience aboard the MS Nordkapp, an experience I would have never imagined. Even though the trip took two hours to complete, the comfort of the seats/armchairs/sofas (you make your pick!), made these two hours pass like 20 minutes. Extreme comfort on a cruise across the Barents Sea!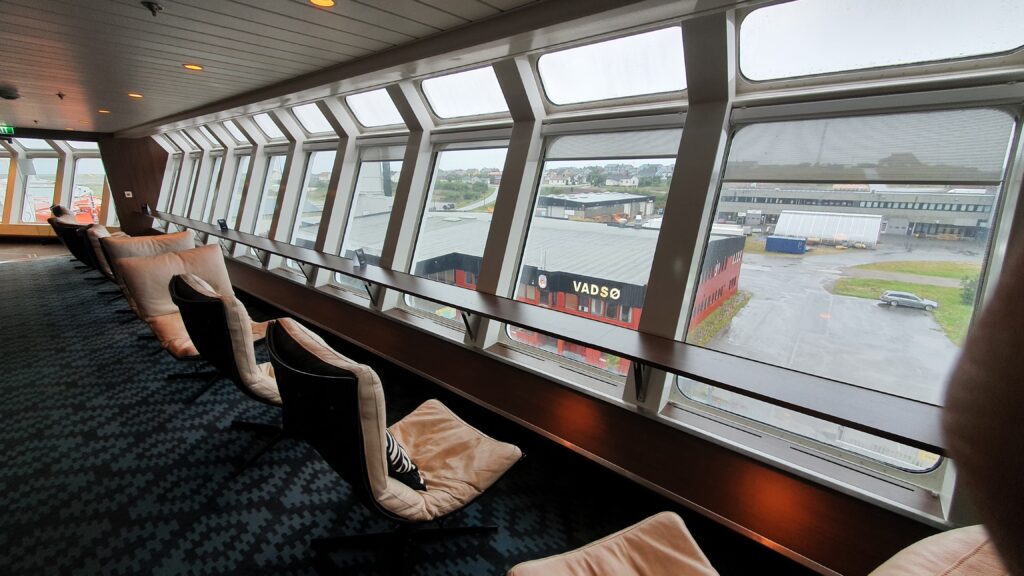 The ship called at Kirkenes on time and the Snelandia bus to take me to the airport was already waiting in the bus station (called "Kirkenes kai"), which is right outside the seaport's yard. Buying the ticket on the same app (Snelandia Mobillett) was hassle-free, and I got to the Kirkenes Airport with absolutely no problem! And, from there, the rest of the journey was a "normal" plane ride.
So, there you have it: it's easy and fun to get to Vadsø!
Regional Planes
To make the trip equally fun, you can also choose to include in your journey at least one ride on the regional Widerøe airline from Kirkenes to Vadsø (or the other way around).
If you do choose this, you're in for a typical regional experience: you will find yourself on a small plane, which, in function of the itinerary, will make several stops before you will land in Vadsø! Meaning that it acts like a "bus" – you will have stops, but you will not need to get off the plane until you reach your final destination – just like on a bus! The flight time between each stop is around 10-20 minutes, so the plane doesn't have time to reach great altitudes, which means that you will probably be flying over the Varangerhalvøya National Park and have some magnificent views!
Last time I did this it was in winter, and I had a 3 stop journey, to get to Vadsø from Kirkenes: the plane stopped in Vardø, then at Båtsfjord and finally at Vadsø. Just take a look at the beautiful views you have from the plane window!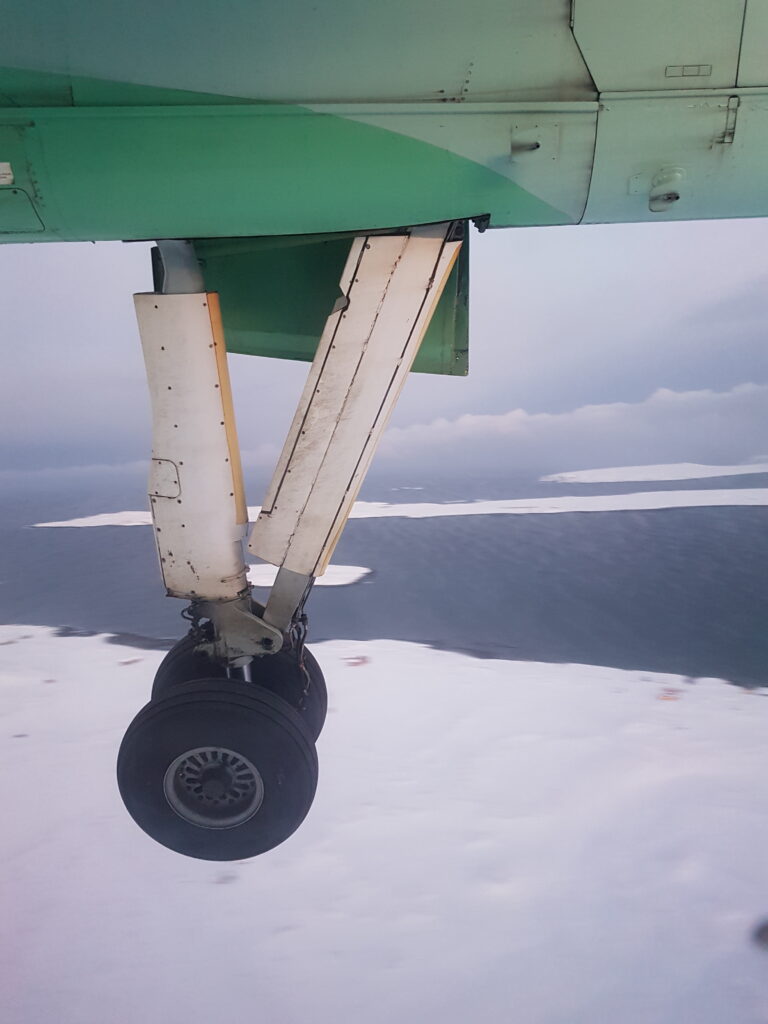 For me personally, coming to Vadsø and exploring the wonderful and contrasting landscapes of Varanger, means a dose of extreme calmness. It makes me happy. It turns my life around – in a good way, of course! – and it fills me with energy and good vibes. Call it magical, enchanted, or whatever you wish – this place exists and it does all of this to me! And I know that I am not alone to feel this, I have personally witnessed other people who told me the same thing!
So, what are you waiting for? Come visit me in Vadsø, and have a look at some things we could do together when you're here!
See you soon!